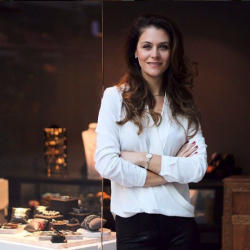 Beril Uygur Tuncel
She studied Economics in Marmara University. She also studied for master degree in Production Management and Marketing in Marmara University.
After 7 years of corporate working life, she decided to step into the fashion industry, who is connected with passion. That decision has led to creation of the Man Cave brand.
The main purpose of the creator of the brand is to bring good designs together a wide range of products and to offer the consumer's taste. She is described her brand as masculine, male-specific, independent and unusual.
Our Brand
WE HAVE COME TO ADD SPIRIT TO MASCULINE WORLD OF THE MEN!
Man Cave is a metaphor created to describe a space decorated in such a way that the men who can do anything they want in their house regardless of female sensitivity! We fueled this metaphor for our brand! Our brand will be indispensable with its masculine, male-specific, independent and unusual style!
Our Guarantee
SPECIAL DESIGNS ENTIRELY FOR YOU
Your favorite objects turn into accessories that reflect you in the hands of Man Cave.
JEWELLERY FOR YOUR EXCLUSIVE STYLE
Man Cave is creating jewelry for you, in which everyone looks at enviably. It is thickening the line of your style.
UNIQUE AND PRECIOUS STONES
We use precious stones such as diamond, gold, and silver in all of our products.
EXCLUSIVE LINES
Our design team adds spirit to our products with the masculine and trendy line befitting to men.